4 Years of Podcast Listening
It was November 2014, and I kept hearing about this podcast called Serial, which was first released on October 3, 2014. I was in Utah for my best friend's wedding, and shortly before boarding my flight home I decided to download several episodes. I'd never listened to a podcast before, but on that flight home I was captivated by the story! I didn't want to go to bed that night so I could finish listening…and I've never slept since. Just kidding! The next morning, I picked up where I left off – listening while I was getting ready for work, driving into the office, and then on my way home – when I finished the season.
And I was ready for more! I loved the medium – listening and learning while doing other things. It became an amazing way to learn, have fun, and make otherwise idle time (such as commuting) into a more enjoyable and productive experience.
My high school gym teacher once told me that "power cleans are like cheating for girls." Let's ignore the fact that he said "for girls" and I think the same lesson can be applied to podcasts: they're like cheating – for people. Without taking any more time out of my day or changing my routine, I was able to learn so much. And because there are over half a million podcasts out there, there is a podcast for pretty much everything! This means I could use podcasts to get the news, music updates, and hear interviews with thought leaders, authors, and celebrities. I could learn industry-specific information to enhance my career, discover topics, stories, and perspectives I hadn't considered before, while also indulging in podcasts about my innocent pleasures.
Over the last four years, I've listened to A LOT of podcasts. At one point I calculated I was listening to 20 hours of podcasts each week – though speeding up many episodes, so it didn't actually take 20 hours! (It was fun, but I certainly don't listen at the pace anymore.) During the last few years, I've found some amazing shows. Finding a good podcast to listen to could be as simple as checking out sites like https://www.knowledgeformen.com/the-best-joe-rogan-podcasts-of-all-time/ to do a little bit of searching. As there are podcasts focusing on pretty much any topic, it is easy to find one that you can relate to.
I've discovered I can get really into a podcast for several months and then take a break from it completely and find something totally new, which means I've listened to several different shows. At certain times, I've even considered putting a podcast out into the world myself and looked into the likes of Lower Street, who offer premium podcast production services and who could be the solution to getting my ideas into an audible form and onto the web. I'm sure there are people out there who would listen to the things I have to say. This post is designed to share the best of everything I've listened to over the last four years!
The Benefits of Podcasts
In case you're not already hooked on podcasts, here are 10 reasons I love them:
They're free!
You can learn a bunch of stuff
They cover a wide variety of topics – something for everyone and every interest
They introduce you to people, perspectives, and stories you might not come across otherwise
They go deeper on a topic than you would scanning headlines or Twitter – but don't require the commitment of a four-year degree
They turn idle time into productive time
You don't need to find more time in your week to start listening (think getting ready, driving, working, going to the gym, etc.)
You might find yourself working out longer just to keep listening
You can increase your knowledge specific to your chosen field of work or in preparation for a career change
They're interesting, funny, informative, shocking, educational, and inspiring!
A Few Notes
It took me some time to find the right podcasts for me – and the right number of podcasts to subscribe to.
Because they're free, there is very little barrier to entry. Try some podcasts, and if you don't like what you hear, simply pick another!
Sometimes I do have to unsubscribe or skip episodes because I recognize I still need quiet time in my life – and become more intentional about the podcasts I listen to.
Just because you subscribe to a podcast, doesn't mean you have to listen to every episode.
I started listening by using the default app on the iPhone. I now use the app Overcast.
I'm not a machine or a robot, and I haven't listened to every podcast ever – remember that's half a million podcasts! If there's something missing you think I should check out, please let me know!
In my lists below any podcast descriptions found in quotes were taken directly from the show's website.
Finally, I want to say I've noticed a significant lack of representation among women and minorities in many podcasts, especially among shows hosted by thought leaders and interviewers. I'm trying to be more aware and conscientious of this as I choose what I listen to.
Alright, let's get to the lists!
Stand-Alone Seasons
Stand-alone seasons are a great way to learn about one topic or story in a series of several episodes. They're often binge-worthy, very well researched and produced, and don't require the commitment of a weekly show producing episodes indefinitely. (Also note that when I list the number of episodes for each of these stand-alone seasons, I'm only including the main episodes and not any bonus episodes that might have been released subsequently.)
Classic Podcasts
I'm calling these podcasts classics because they're some of the most popular podcasts and also the most recommended, which means many of them are the podcasts I listened to first (after Serial Season 1). Others just didn't fall neatly into another category, so here we are. And, I have to say that while many of these helped get me into podcasts, I don't regularly listen to most of them any more. That's not a knock on any of them – it's just the beauty of podcasts. After a while, there's something new and exciting to try!
Pop Culture and Sports Podcasts
Business and Finance Podcasts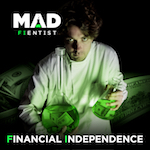 How I Built This

"Guy Raz dives into the stories behind some of the world's best known companies. How I Built This weaves a narrative journey about innovators, entrepreneurs and idealists-and the movements they built."

Financial Independence Podcast

"On the Financial Independence Podcast, I dissect the brains of some of the most well-respected fientists in the field to discover their techniques and strategies for achieving financial independence. Join me for interesting and informative discussions on money, investing, and all things related to early retirement and financial independence!"

The Fizzle Show

"The Fizzle Show is a podcast for creative entrepreneurs and honest business builders who want to earn a living doing something they care about."
I have also benefitted from listening to XYPN Radio and the Financial Advisor Success Podcast, which are both created specifically for financial planners.
Interview Podcasts
Other popular podcasts in this category include Fresh Air, The Joe Rogan Experience, and The Tim Ferriss Show.
Politics Podcasts
Daily News Updates
The Daily

"This is how the news should sound. Twenty minutes a day, five days a week, hosted by Michael Barbaro and powered by New York Times journalism."

Today, Explained

"News comes at you fast. Join us at the end of your day to understand it. Monday to Friday, Today, Explained will be available in time for your evening commute. All killer, no filler. Hosted by Sean Rameswaram."

Up First

"NPR's Up First is the news you need to start your day. The biggest stories and ideas – from politics to pop culture – in 10 minutes."